Premises that respect the environment
Studying at ESA means benefiting from 20,000 m² of modern buildings built around a landscaped patio that respect the environment.
Buildings constructed ecologically:
Low energy consumption
Recovery of rainwater to water the roof, intended for the installation of environmental equipment (solar panels, wind turbines, etc.)
650 covered places for bicycles
More than 100 classrooms, including 6 computer rooms, a multimedia room for languages, 16 teaching laboratories for practical work and 30 group work rooms.
It is also means benefiting from the resources of a large higher education group: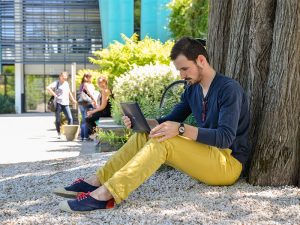 4 amphitheatres one of which seats 450 people
1 media library with 22,000 works and three thematic working spaces, etc.
A sensory analysis room, a professional kitchen, analytical platforms and an experimental greenhouse
A university hall of residence close to the campusAnd, in partnership with other establishments: horticultural greenhouses, orchards, experimental farms and technology centres
Digital media
a platform for interactive exchanges and multimedia aids between students and lecturers (e-campus)
a student intranet (planning, online internship/work placement, etc.)
an ESA student e-mail service with "Live@edu"
online access to the media library database
A media library to study, do research, etc.
22,000 works in our computerised catalogue
An historic collection of approximately 10,000 works
220 periodicals, of which some thirty foreign language, as well 170 stopped and archived collections.
Multimedia documents (DVDs, CDs)
6 databases: CLIMATHEQUE (MétéoFrance – French meteorological office), CAIRN, FACTIVA, KOMPASS, LAMY DEHOVE, TECHNIQUES DE L'INGENIEUR.
A media library of more than 700 m²

A documentary library linked to the fields of ESA training programs : agronomy, ecology, plant production, ornamental horticulture, zootechnics, animal husbandry, food sciences and technologies, environment, economics, marketing, business management, law and sociology.
The documentary portal, "La Fontaine" allows the user to access practical information, the latest news and new acquisitions. It is also possible to carry out documentary research.
Contact
Media Library
ESA – École Supérieure d'Agricultures
55 rue Rabelais – P. O. Box 30748
49007 Angers cedex 01 France
Tel. 02 41 23 56 14
mediatheque@groupe-esa.com
Teaching laboratories
The purpose of the teaching laboratories is to ensure that practical multidisciplinary teaching is possible in the context of the various ESA study programmes (BTS, Bachelor, Engineer and Master).
There are several objectives:
to enhance the practical dimension of teaching and support reflection on the pedagogical development of the practical work in different disciplines and courses;
to ensure that the practical classes are properly coordinate (management of laboratories, equipment and products, etc.); and
to ensure the technical supervision of all the practical pedagogical activities (lab work, field studies linked to the laboratories)..
The teaching laboratories are made available to ESA students and interns/work placement students to carry out their own work and analyses (for example: physiochemical analysis of soils, analysis of the nutritive value of forage or silage, chemical analysis of water, wine, milk, etc.)