Accommodation
ESA students live off-campus.  Angers hosts 42,000 students every year, you will easily find somewhere to live in our area.
For example:
ESA's Oxford accomodation (see below),
student halls of residence,
hostels for students or young workers
private owners: consult Internet websites or useful addresses
flats managed by low-rental housing services (HLM).
Oxford residence hall has 80 furnished studios, located close to the campus.
– They have a kitchenette (fridge, electric hob, cupboards).
– They are furnished (bed, desk, storage).
– Each has a shower room (toilet, hand basin and shower).
37-39 rue de la Morellerie, Angers (49), 10 min from ESA by foot:
Security guards, bicycle storage, laundry, secure parking.
Rent: €380/month, heating included. If you have APL (Personalised Housing Aid) or an ALS (Social Housing Allowance) from €120 to €170/month.
Contact : Agence SERGIC – 5 Place Lorraine à Angers – Tél. 02.41.18.22.16 – www.sergic.com
Places to eat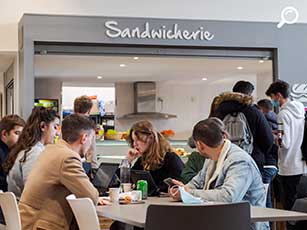 The cafeteria in the student foyer provides meals for the price of a university meal voucher. Numerous places to eat or buy food are found close to ESA (bakery, brasserie, supermarket).
Angers has 2 university restaurants and 3 cafeterias that all students may use upon presentation of a student card or a school attendance certificate.
Opening hours: from Monday to Friday from 9am to 4pm – vouchers on sale on site: €3.25.
Travel
75% of ESA students cycle or walk to the campus.
ESA has launched a campaign with other establishments in the area, organised by students and members of staff, to reduce car traffic and promote alternative means of transport: bus, bicycle, walking and electric scooters.
On foot:
10 – 15 min from the centre of town and the train station
Bicycle:
600 places for bicycles (455 in covered garages and 145 open air) – on site bicycle repairs.
AUDA (Association Universitaire pour le Développement et l'Avenir) – offers bicycles to students, free of charge during the school year (€300 deposit).
Contact : AUDA – 11 Boulevard Lavoisier, 49000 Angers – 02 41 22 64 09 – auda.kiosque@univ-angers.fr
VéloCité – Angers city lends bicycles to residents (one week – three months.  Contract may be renewed four times) .
Contact : VéloCité – 6 rue de la gare, 49000 Angers – 02 41 18 13 21 – velocite@ville.angers.fr
Bus:
Ligne 3 Avrillé Adézière / Salette <> Mûrs-Erigné – ESA stop
Line A tram nearby (Strasbourg stop 300m from the school)
Contact : IRIGO – Place Lorraine, 49000 Angers – 02 41 33 64 64
Train:
ESA is 10-15 min on foot from the train station
Pays de la Loire regional train season ticket (TER- Pays-de-la-Loire) : More information
Car:
Student parking for car-sharing (limited number of places): Idvroom.com ou blablacar.fr