Accommodation
ESA students live off-campus. Angers is a town that hosts 42,000 students every year. You will easily find somewhere to live in our area:
in ESA's Oxford residence hall (see below),
in university student halls of residence (watch out for application deadlines) or in private student residence halls,
in hostels for students or young workers,
via private owners: consult Internet websites or useful addresses,
in flats managed by low-rental housing services (HLM).
Oxford residence hall has 80 furnished bed-sits, located close to the campus.
– They have a kitchenette (fridge, electric hob, cupboards).
– They are furnished (bed, desk, various storage areas).
– Each has a shower room (toilet, wash hand basin, shower).
37-39 rue de la Morellerie, Angers (49), 10 min on foot from ESA:
Security guards, bicycle storage, laundry, secure parking.
Rent: €380/month, heating included. If you have APL (Personalised Housing Aid) or an ALS (Social Housing Allowance) from €120 to €170/month.
Contact : Agence SERGIC – 5 Place Lorraine à Angers – Tél. 02.41.18.22.16 – www.sergic.com
Places to eat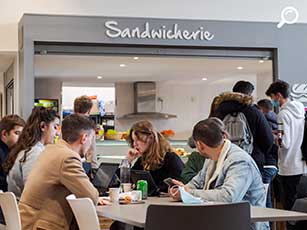 There is a cafeteria at ESA student foyer where you can eat for the price of a university meal voucher. Numerous places where you can eat or buy food are found close to ESA (bakery, brasserie, supermarket).
Angers has 2 university restaurants and 3 cafeterias that all students may use upon presentation of a student card or a school attendance certificate.
Opening hours: from Monday to Friday from 9am to 4pm – vouchers on sale on the site: €3.25.
Travel
75% of ESA students cycle or walk to the campus.
ESA has launched a campaign with other establishments in the area to reduce car traffic and promote "alternative" means of transport: bus, bicycle and walking. It is organised by students and members of staff.
On foot:
10 – 15 min from the centre of town and the train station
Bicycle:
600 places for bicycles (455 in covered garages and 145 open air) – Bicycle repairs at prices subsidised by the establishment on the ESA site.
AUDA (Association Universitaire pour le Développement et l'Avenir) – This association offers bicycles free of charge to students during the school year (€300 deposit not cashed except in the event of theft or damage).
Contact : AUDA – 11 Boulevard Lavoisier, 49000 Angers – 02 41 22 64 09 – auda.kiosque@univ-angers.fr
VéloCité – The town of Angers lends a bicycle (minimum one week, maximum three months – contract may be renewed four times) to people who are residents or working in Angers.
Contact : VéloCité – 6 rue de la gare, 49000 Angers – 02 41 18 13 21 – velocite@ville.angers.fr
Bus:
Ligne 3 Avrillé Adézière / Salette <> Mûrs-Erigné – ESA stop
Line A tram nearby (Strasbourg stop 300m from the school)
Contact : IRIGO – Place Lorraine, 49000 Angers – 02 41 33 64 64
Train:
ESA is 10-15 min on foot from the train station
Pays de la Loire regional train season ticket (TER- Pays-de-la-Loire) : More information
Car:
Student parking for car-sharing (limited number of places): Idvroom.com ou blablacar.fr