The Campus is a friendly place to live and study.  It's walking distance from downtown and is always buzzing!
Joining our school means: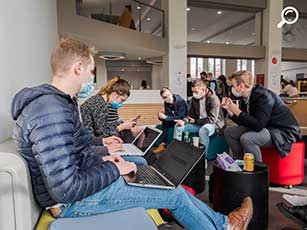 Living a rich interpersonal experience that will shape your future
Expanding your vision of community life
Meeting and sharing in a multicultural environment
The school has many different clubs:
Culture and Media
Music and Dance
Sports
Food and Wine
Organisation of events
Commitment and Solidarity
Young Business Startup
Welcoming International students
These different activities allow everyone to participate in a dynamic community life. It is an opportunity to acquire and develop skills and responsibilities: creativity, team management, project management, budget management… but also to express yourself!
Culture and media
Apocalypse Cow aka APO, is ESA's student newspaper.  It's sold to students at the end of each year, offering a great way to relax after a busy exam period, catching up with the gossip, news and humourous articles.  The paper is entirely produced by a team of 15 students through an efficient mix of diligent hard work and great fun.  They are always keen to add to their number!
Le Bureau des Arts – "There is no such thing as a cultured man, there are only men who cultivate themselves" Ferdinand Foch.
If you'd like to join others to make music, create theatrical productions or visit the cinema, get in touch with the Bureau des Arts (BDA) ! We organise improvised theatre sessions and reduced-price movie tickets, while ESA provides a fully equipped music room.
Music Club students form groups according to mutual preferences.  The groups are often asked to play at events such as the 'Melting Pots' and at Inter-School concerts…
The BDA also organises and promotes art and culture activities: music, cinema, theatre, exhibitions, dance, literature, philosophy and offers activities (rock club, theatre club…).
We don't just cultivate seeds, we also cultivate our minds!
Music and dance
Rock club : Rock & Dance classes are held every Wednesday.  Learn new tricks and practice for the Big Rock Contest during the Gala event (A festive event organised by ESA societies).  Rock on !!
Sport
Sport clubs (AS) offer sports for all : soccer, volleyball, basketball, badminton and all other sports on request.  Training sessions take place in a friendly atmosphere each week!
There are major university tournaments in several sports : pétanque, archery, athletics, tennis, horse riding and more !
A number of half-day sports activities such as climbing, canoeing and hiking are organised during the summer.  A fun moment with friends around the sports you love.
The AS participates in interschool sporting events:
BREI tournaments: tournaments for all the Grandes Ecoles of Angers
The AS evening : celebrate with ESAs oldest sponsors
The Inter ESA : students from different diplmomas compete
The ovalies : the largest European university rugby tournament at LaSalle Beauvais
Join the Sports Association to enjoy a healthy, active and fun year at ESA!
Riding Club : ESAcheval is open to all, whether experienced or curious to discover riding.  For experienced riders, CSO and dressage lessons are offered at a stable in Avrillé (15 min by car).  Everyone is welcome to come and enjoy riding with us in the great outdoors.  An equestrian show is planned each year ! Numerous outings are organised such as:  the Angers horse show, the Mondial du lion d'Angers, the Cadre Noir de Saumur…
Food & wine
The Cheese Club : This club was the initiative of students and teachers wanting to discover and share the diversity of French Cheese.  Throughout the year we offer themed tasting sessions to enjoy and discuss in a friendly atmosphere!  We organise visits to cheese dairies in a warm and friendly atmosphere.  Let yourself be tempted by a tour of French cheeses and awaken your taste buds !
The Oeno Club – The ESA Oenology Club aims to introduce students to the world of wine in a friendly atmosphere. The club relies on a close-knit and highly motivated team…
We organise different activities, such as tasting evenings and blind tests.  With around 50 members, we meet to share and acquire wine culture and to exercise our palates.  We organise visits to wineries and farms, where we can discuss with professionals, and invite speakers to join our tasting sessions.  We encourage joint activities with other associations with the Cheese Club being an obvious connection.  Each year we organise a trip to a wine region to meet wine growers, taste their products and visit their region.
In our Rare Vegetable Garden we cultivate rare or little known fruits and vegetables using organic principles. Everyone is welcome in our garden, so come and relax, daydream, stroll, discuss and bring your own growing ideas.
Entertainment – Events
Trips to Capitals – Barcelona, Prague, London, Berlin, Rome… we all dream of visiting these European capitals. Once a year, the BDE organises a trip to one of the great capitals of Europe.
Ski trip – Every year, the BDE organises a week of skiing in the Alps.  All ESA students are welcome.
Melting pots – Every Wednesday evening from 5:30 pm, it's Melting pots!  An opportunity to have a drink with other students and share a relaxing moment in the middle of the week.  A team of students is in charge of animating these small events with games and music.
Day events – One off group activities: go-karting, paintball, water activities, etc.  An opportunity to relax and meet new people.
Rabelaisienne – Buffets, Concerts and many other surprises.
ESA Gala – The main social event of the academic year is the ESA Gala.  Usually taking place at the Château du Plessis Macé, this exceptional evening brings together students and staff for a prestigious meal in a dream setting with a dance floor.  The highlight?  A wild rock contest!
ESAChallenge organises INSOMNIAK and PARADISIAK.  These themed events are the biggest student parties of the year.  Starting a few years ago with Inter-Agri, today our association has its sights set on a new project.  An open event for everyone in Angers.  We're looking for new motivated people to help organise our project!  Our key objective: celebrate student life!
Fields and manure – The third year is a turning point in the life of an ESA student!  The Bachelor's degree cycle ends and the Master's degree cycle begins.  To mark this important passage, 3rd year students prepare an artistic show every year.  Dancers, musicians, comedians, singers… all the talents of the class unite to present a fantastic show. Video sketches recalling the highlights of the year are also presented.  An unmissable evening: 3 hours of laughter, 3 hours of madness!
Commitment & solidarity
ESAlternatives – initiates change and suggests new ideas.  Created in 2014 by friends with a common desire to combine their student life and their convictions, ESAlternatives is about producing, consuming and living differently.  We aim to offer students other thoughts and points of view to those taught in the classic school setting. With conferences, gardening workshops (in school and downtown), debate evenings and a big annual event: La Petite Pierre, an afternoon of debates and conferences and an evening meal-dance with concerts and 'too good to throw away' products recovered on local markets.
ESAgricultures – promotes awareness of agricultural issues, offering visits to farms of all kinds.
We aim to consolidate the generational link and inform local residents about agriculture by organising a farmers' market with local products, conferences, a meal and activities for everybody.   An occassion to learn more about agriculture and what Esa offers.
ESAbeilles – While bees play an essential role in agriculture, their future is uncertain due to the vast overuse of insecticides.  There are 7 beehives in the campus orchard.  Staff and students plan and manage the harvesting, hive maintenance, overwintering, monitoring and many other activities.  ESAbeilles is open to all, beginners or experienced.   We visit the hives on Thursday afternoons and offer initiation sessions to hive maintenance and honey processing and give conferences on bees.  Come and join the swarm!
Free beekeeping courses are given at the Rucher-école de l'Anjou two Saturdays a month.
The CGE  – a national club assembling Christian students in France.  Seven schools in Angers are members: ESA, ENSAM, ESAIP, ESSCA, ESEO, INH and IRCOM but all are welcome.  Once a month, a communal mass is organised within the school.  We hold a large gathering at the end of January each year with conferences, testimonies and times of prayer. Within ESA, the CGE offers monthly round tables, prayer times, sports meals, outings, etc.
The inter-agri-agro weekend brings together students from agri-agro schools throughout France for a meeting at  AgroParisTech.  Here, we reflect, as Christians and future leaders committed to society, on the major issues of our time, focusing on agriculture, agribusiness and the environment.  The program aims to help students develop their human, social, humanitarian and spiritual sense.
Junior enterprise
The Junior-initiative 'OSER' (Ouest Service Etudes Recherche) works like a research department, with over 250 engineering students ready to respond to the expectations of its customers.
Develop personal skills (management, customer relations, accounting, public speaking, etc.) in various fields of expertise : agriculture, agri-food, viticulture and oenology, environment.
Why join OSER ?
It's an opportunity to perform research for real professionals, earn experience and money ! It is a unique experience and an excellent way to enhance your CV in a pleasant environment.  As a member of OSER, you will carry out technical, management and market studies, administer questionnaires and analyse the responses.
Interested?
Contact : oser@oser-je.com
Site web : oser-je.com