Ways to experience the School!
Virtual campus tour
Take this 360 degree panoramic tour, and get a flavour of what it will be like to study and live in Angers.
Let's take a virtual trip around our campus!
Our campus is constructed ecologically:
Low energy consumption
Rainwater recovery system
Equipped for the installation of environmental equipment (solar panels, wind turbines, etc.)
650 covered spaces for bikes
More than 100 classrooms including 6 computer rooms, a multimedia room for languages, 16 educational laboratories for practical work, 30 group work rooms available.
Lecture theater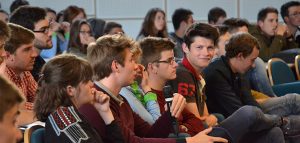 We have 4 lecture theaters of which one has seating for more than 450.
Media Library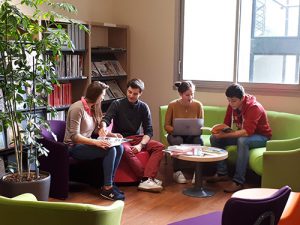 18,000 works in our computerised catalogue
A historic collection of approximately 10,000 works
220 periodicals in several foreign languages,
Multimedia documents (dvds, cds)
Several databases: climatheque (météofrance – French meteorological office), cairn, factiva, kompass, lamy dehove, techniques de l'ingenieur, etc.
We have a documentary portal 'La Fontaine' which provides access to the catalog of the media library, to carry out documentary research and to access practical information, news and new acquisitions about agronomy, ecology, crop production, ornamental horticulture, animal husbandry, animal production, food science and technology, environment, economy, marketing, business management, law, sociology.
Collaborative classroom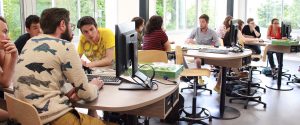 Our specially designed collaborative Classroom has moveable furniture facilitating group work.  It is made up of modular tables, equipped with computers and microphones. The room can be used to project different media and for participative  videoconferences.
Language Centre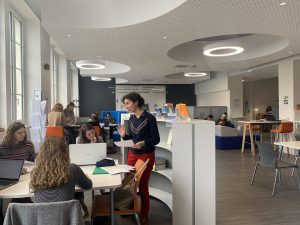 Our Language Centre is located on the first floor of Villa Loyola.  It offers a broad range of language services in an international environment. With language courses in English, French, German and Spanish – the Language Centre has something for everyone.
Providing a range of work environments; comfortable rooms, reading corners, collaborative work rooms, modular space for creativity and mini amphitheatre, it offers a multitude of resources: textbooks, novels, magazines, dictionaries, games, DVDs, etc.  There is also a 'Resource Portal', which lists useful websites selected by the teaching team with self-training exercises.
Teaching Laboratories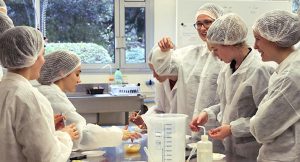 ESA provides access to a range of cutting-edge facilities, supported by expert technical staff who provide training and assistance in, for example; physiochemical analysis of soils, analysis of the nutritive value of forage or silage, chemical analysis of water, wine, milk, etc.
The laboratories were created to enhance the practical dimension of teaching and support reflection around the educational development of practical work in various disciplines and training situations.
Cafeteria and Snack Bar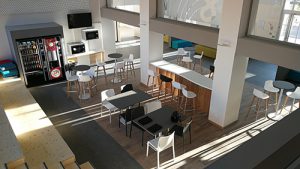 The student cafeteria, located in Villa Loyola, provides different meal options.
Watch our videos