Nourish your mind at ESA through education, research and innovations to feed the world
L'Ecole Supérieure des Agricultures (ESA) is a multidisciplinary private Institute of Higher Education and Research founded in 1898 and specialising in Agriculture, Agronomy, Food Science, Viticulture & Enology, Environment and Agribusiness.
More than 3,200 students are currently studying at ESA – including 900 engineering students and 200 foreign students from more than 35 different countries. Our teaching methods combine field experience with scientific and technical fundamentals, constantly evolving alongside new innovations. ESA is known as one of the leading agricultural higher educational schools in France.
"Agriculture is a strategic field.  ESA anticipates and innovates in order to better train our graduates. Our school stands for a fairer, more inclusive world with respect for personal beliefs.  Everyone is unique and has a role to play in our shared progress.  At ESA we combine practical training with education and information with life experience."

René SIRET
ESA's Director
Vision & Mission
Vision
We aim to remain a leading Institute of Higher Education within the fields of agriculture and allied sciences. To continue as a centre for research excellence as well as an educationally outstanding Institute of Higher Education, designing and implementing top quality, research-based academic and community outreach programs.
Mission
With the very real, global challenges of managing food supply and safety, human nutrition, efficient agricultural systems, environmental conservation and sustainable resources, ESA's fundamental mission is to offer practical and educational agriculture experiences to optimise leadership potential, personal growth and career success for our students.
ESA strives to maintain a culture of academic and technical excellence, encourages continuous intellectual growth and promote professionalism among its student body, offering a broad curriculum of agricultural science, agronomy, agribusiness and environmental specialisations for undergraduate, graduate and professional degree programs.
With over 120 years of acquired expertise, ESA has long been known as a leader in training for successful careers for the future. Our multidisciplinary faculty work on a day-to-day basis to support student success in a productive, engaging, and fulfilling work environment, facilitating excellence and personal satisfaction for all.
ESA pursues the following goals and objectives:
ESA – helps students become entrepreneurs, innovators, professionals and socially responsible in the field of agricultural production, agri-food and territorial development.
ESA – helps students acquire scientific, technical and professional skills at the highest level, in line with the economic, social, cultural and geopolitical realities of our time.
ESA – prepares its graduates with the knowledge, skills, and confidence to pursue meaningful careers. We share your ambition and we will give you a solid professional foundation for you to build your career.
ESA – offers high quality training to students and professionals in different curricula.  We have a complete and comprehensive curriculum designed to prepare our students for professional realities and achieve academic excellence.
ESA – advances scientific knowledge, in close association with our public and private research center.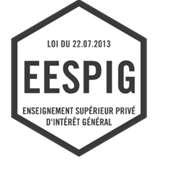 ESA is labeled "EESPIG" (établissement d'enseignement supérieur privé d'intérêt général). A prestigious certification for 'private higher education establishments of general importance', it is awarded by  alumni and professionals from the agricultural and agri-food world.