Angers, an attractive town
Angers has been an important centre of horticulture since the 19th century.  With more than 300,000 inhabitants, of whom 42,000 are students, Angers is a very green town, noted for its culture and diverse activities.  Angers is renowned for its mild climate and quality of life and offers many UNESCO World Heritage Sites to be discovered and enjoyed.
Angers is considered the most ecologically progressive city in France (UNEP)
Angers is considered the least polluted city in France (who and web surfers)
Angers, a great city for students
48% of the population is under 30
42,000 students
4 University campuses
8 'Grandes écoles' open to the world's students
One of the least expensive French university towns in which to live: €848 for monthly expenses with €398/month on rent for 25m²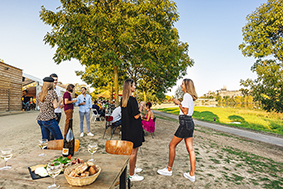 Angers, an easy-going lifestyle

More than 630 hectares of green spaces: 20 parks and gardens, including our park at ESA (4 ha)
That's 51m² of green spaces per person, more than double the average French town
Over 70 km of cycle tracks
A large, efficient public transport network: bus and tram
300,000 inhabitants, of whom 42,000 are students
Crossroads of the Great West: Angers is located between Paris (1h30 by TGV) and Nantes (45min by TGV)
 Angers, a historic town
Studying in Angers, you'll have access to many cultural facilities:
Theatre: Le Quai, Le Théâtre de l'Hôtel de Ville (THV), Le Grand Théâtre
Concert halls: Le Chabada, l'Aréna Loire, Amphitéa
Music: Angers Nantes Opéra, Orchestre national des Pays de la Loire (ONPL)
Cinema: Les 400 Coups, Gaumont Angers Multiplex – 24 screens, including an independent Arthouse cinema
Angers, 3 major economic sectors
Horticulture
Terra Botanica: Europe's leading theme park offers with interactive encounters with plants
The area of the Basses Vallées Angevines is recognised as one of the most beautiful and richest natural humid regions in Europe.
VEGEPOLYS is a world competitive network in the field of plants
Angers: More than 15,000 employees working in horticulture
Research laboratories (INRA, SNES) and the leading businesses (Briant, Groupe Limagrain) are based in Anjou. Like ESA, they're part of the regional network and contribute to development of the sector.
Food industry
The Pays de la Loire region is the most agriculturally productive in France
106 Label Rouge (French certification of food quality)
31 registered designations of origin
60,000 hectares devoted to organic production
Angers has 109 industrial food processing companies: Brioche Pasquier, Biscuits Saint-Georges, Charal, Cointreau, France Champignon, Groupe LDC, Soviba, Surgelés Marie, etc.
Agriculture
There is a wide range of agricultural production in Anjou
from cattle raising (milk and meat) to plant production
from vines (8th largest wine region in France) to arboriculture (largest region in France)
Nearly 11,000 farms in Maine-et-Loire with an average size of 42 hectares
Production is 53% for livestock and 47% for crops.