Ambitions of ESA
Feed the world with intelligence, train to be entrepreneurs and succeed in the professions of tomorrow.
All countries in the world agree that agriculture is a strategic activity for the 21st century.
Numerous challenges must be faced to ensure that the necessary wealth is created, especially as regards food of all.
You share the ambition to help society make bold choices that combine agronomic, economic, ecological and social performance.
ESA helps its students become entrepreneurs, innovators, professional players, bearers of human values and socially responsible in the field of agricultural production, agri-food and territorial development.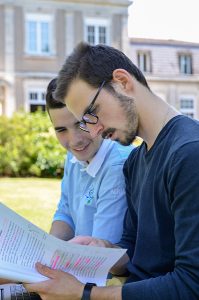 With expertise acquired over almost 120 years and with a culture of shared intelligence, ESA has developed study programmes at the levels of the Bac, BTS, bachelor, master and doctorate in addition to the original engineering school. Our multidisciplinary team of lecturers and researchers work on a day-to-day basis to meet the many challenges of training, the advancement of man and research for business.
ESA's goal is to enable you to acquire scientific, technical and professional skills at the highest level, in line with the economic, social, cultural and geopolitical realities of our century.
ESA graduates enter the workforce with confidence and are known for their ability to combine the ability of recognise practical relevance with intellectual rigour, personal commitment and the synergy with complementary intelligences.
Based in the West of France, the establishment incorporates the realities of Europe and the world. The directors from the business world are the bearers of the values of the Jesuit founders.
Proud of this heritage, they adapt it to the realities of our environment in France and the world.
ESA cultivates moral questioning, the expression of a sense of vision and the development opportunities for agriculture.
Composition of the Executive Board
René SIRET, Executive management of ESA
Anne AVELINE, CFA (networked apprenticeship training centre) administration
Nathalie BARON, Administrative and Financial Management
Nicolas BROUTE, C

orporate relations Management

Olivier JOUIN, Human Resources Management
Frédérique JOURJON, Research and Valorisation Management
Christophe NAUDIN, Master of Science in Engineering Management
Nathalie FONTAINE, Departments Management
Hélène RONGEOT, Vocational Bachelors and Master of Science Management
Composition of the Board of Directors
Chairperson
Pierre GANTIER
Office
Michel AUBINAIS
Bernard LACOSTE
Yves LE MORVAN
Dominique HAUG
Henri BOUVET
Dominique LEGE
Jean-Manuel PIVERT
Simon TANNE
AIESA college
Michel AUBINAIS
Louis-Luc BELLARD
Damien FRANCOIS
Bastien GIRES
Marie-Thérèse GORIOUX
Dominique HAUG
Bernard LACOSTE
Dominique LEGE
Marc LE GUYADER
Anne-Laure PAUMIER
Jérôme PAYOUX
ACTAGESA college
Cyrille BROUSSE
Pierre GANTIER
Ph-Didier GAUTHIER
P-Marie GUICHOUX
J M. MAISSONNIER
Guy PLOQUIN
College of external personalities
Guillaume BOUCHET
Yves LE MORVAN
Lucie SUCHET
Legal entities, ex officio members
Alumni ESA – S. TANNE
ACTAGESA – JM PIVERT
UCO – D. VERMESCH
SEARA – H. BOUVET
Staff & students representatives

Mohamed GHALI
Pascal BYLL
Florimond PIETREMENT
Sylvain COZIAN